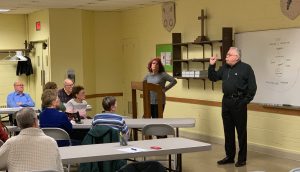 Faith and Family Café
Join Pastor Scott, Deb and several others on Sundays at 8:30am for a series of adult discussion around faith, spirituality and family.
Our current series is called "Spirituality & Wellness". Expand your mind and your soul as you learn how the body, brain and spirit work together. There's plenty more fun topics and time for your questions.
Food provided by The Cupcake and Cookie Company.
March 3 THE PURPOSE OF THERAPY, Deb Olbert
March 10 THE BODY, MASSAGE, and THE SPIRIT, Becky Nyren

Learning and growing at the café.

March 17 LECTIO DIVINA: LISTENING TO SCRIPTURE, Pastor Scott
March 24 NUTRITION: CARING for the TEMPLE, Mary Mook
March 31 NUTRITION: CARING for the TEMPLE, Mary Mook
April 7 CHRISTIAN MEDITATION, Dr. Roger Owen
April 14 CHRISTIAN MEDITATION, Dr. Roger Owen
April 28 SPIRITUAL HEALING, Renny Sherrow
May 5 SPIRITUAL HEALING, Renny Sherrow
May 12 CENTERING PRAYER, Pastor Scott
May 19 CENTERING PRAYER, Pastor Scott