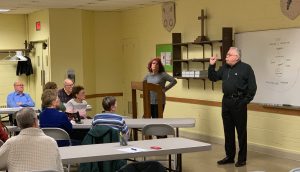 Faith and Family Café
Thanks to all who joined Pastor Scott, Deb and several others for our series of adult discussion around faith, spirituality and family.
The past series called "Spirituality & Wellness" was intended to expand your mind and your soul as you learned how the body, brain and spirit work together. It was certainly a success!
This program will resume in the fall.  We hope you can join us then!
And thanks to The Cupcake and Cookie Company for providing the tasty treats!